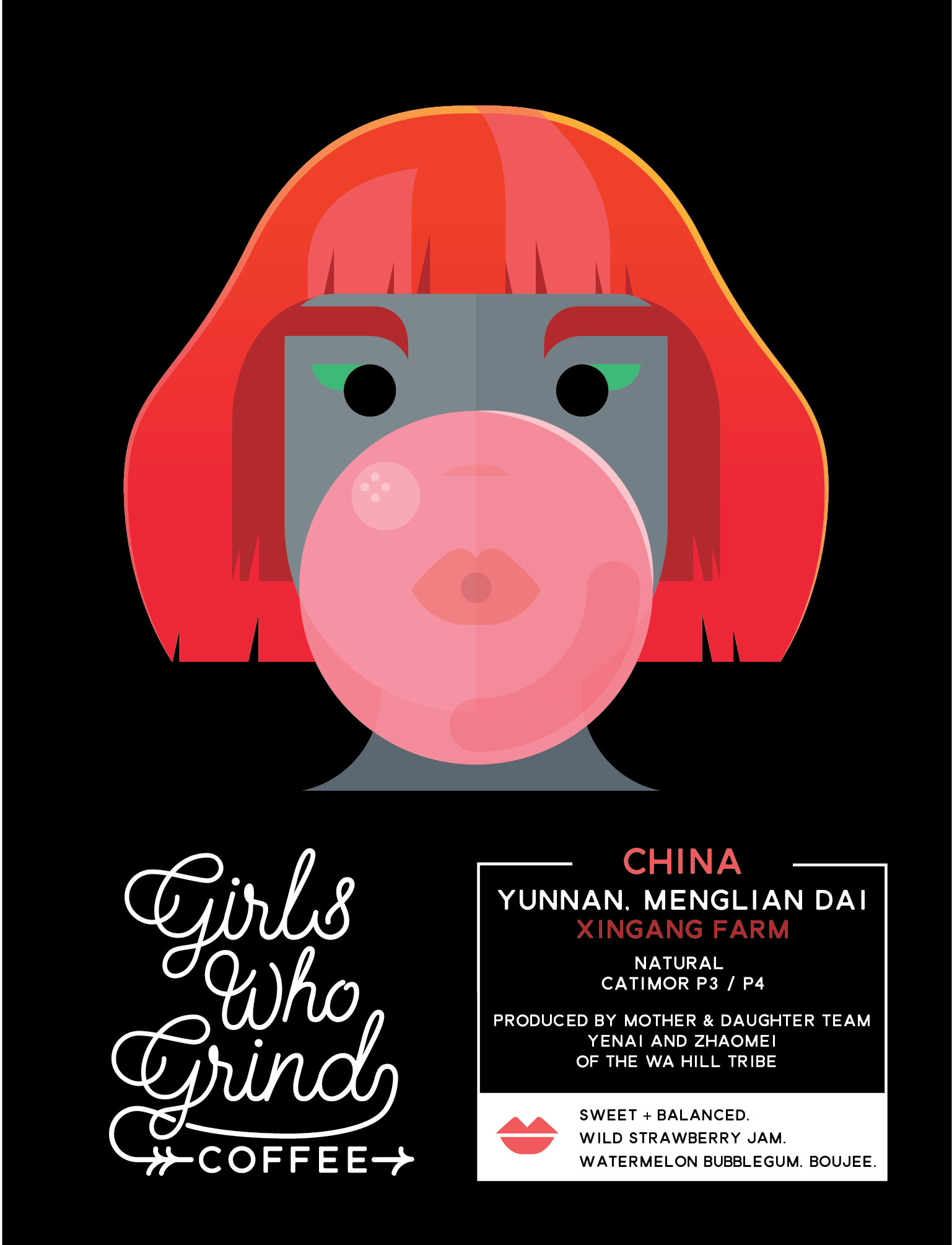 China Xingang
To say we're excited about this coffee arriving at the roastery would be an understatement! This coffee is blowing our minds with it's super sweet, watermelon bubblegum tasting notes completely unique and gorgeous.
Say hello, ladies and gentlefolk, to this incredible natural process coffee from mother and daughter team Yenai and Zhaomei of the Wa Hill Tribe, Family-owned farm, Xingang.
The Wa are one of 56 officially recognised ethnic minority groups in China living in the mountains of western Yunnan between the Mekong and Salween rivers on the border of Myanmar. According to Sir George Scott in the Wa origin myths, the first Wa originated from two female ancestors Ya Htawm and Ya Htai who spent their early phase as tadpoles (rairoh) in a small lake known as Nawng Hkaeo. The lake is located in the northeastern Wa territory in the border area between China and Myanmar.
We are super proud to have worked with importers Indochina to bring this coffee into the UK to share with you all.
Indochina Coffee visited Xingang Coffee Farm in January 2019, having judged at the inaugural Menglian Coffee Competition. Xingang Farm's Natural coffee came second in the competition overall out of 52 participating coffees, with an aggregated cupping score of 85.46 awarded by a panel of international judges. This was our favourite coffee on the cupping table and having spoken to Zhaomai during the competition accepted her invitation to come and see the farm for ourselves.
It was really encouraging to see that two of the top three winning coffees were produced by coffee farms run by women from local tribal groups, highlighting the role of women in leading the development of the region's speciality coffee industry. First place was a nano-lot Natural coffee produced by Gao San Lin Coffee Farm; a Dai tribal group farm followed by Xingang Farm's Natural.
To read more about our Sourcing Philosophy click here
PRODUCER / XINGANG
REGION / CHINA, YUNNAN, MENGLIAN DAI
ALTITUDE / 1600 MASL
VARIETY / CATIMOR
PROCESS / NATURAL
ROAST PROFILE / OMNI
TASTES LIKE SWEET AND BALANCED. WILD STRAWBERRY JAM. WATERMELON BUBBLEGUM. BOUJEE.